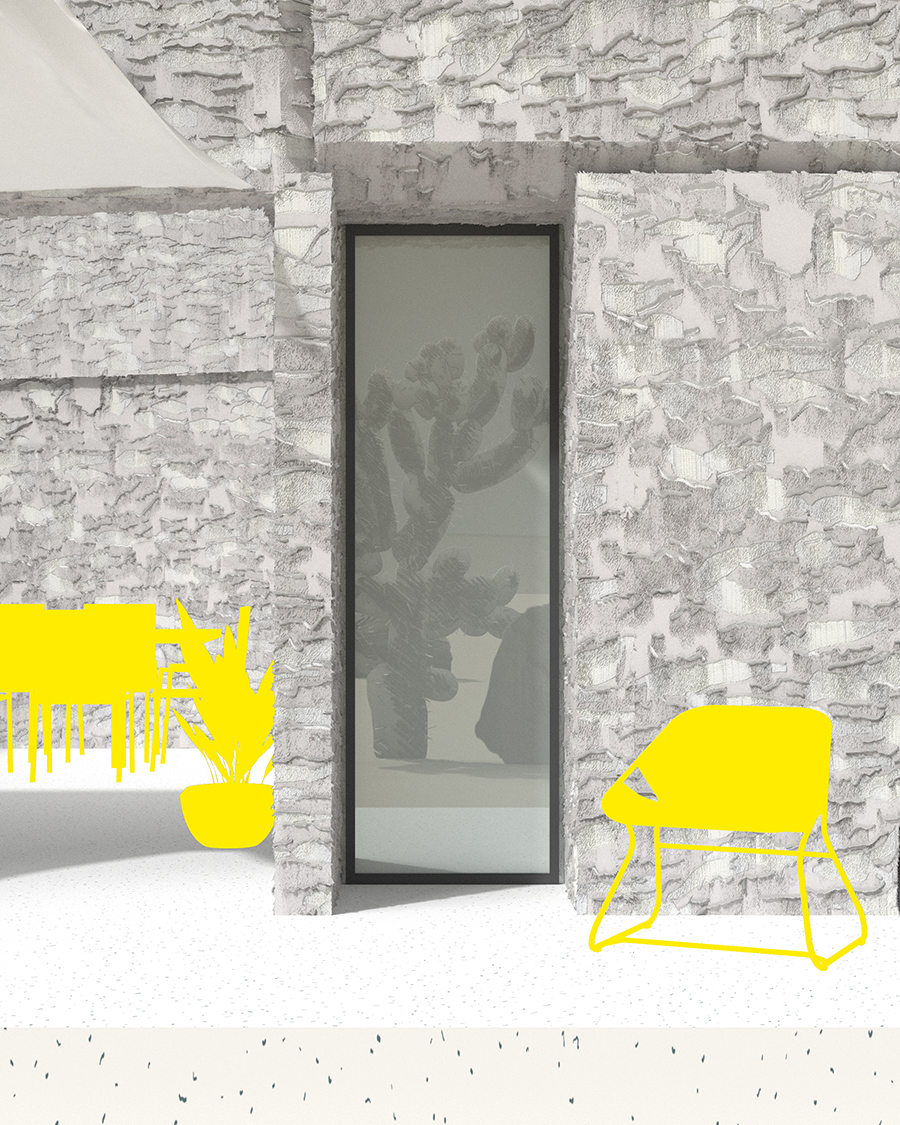 Dusty Mile


Location: Landers, CA
Year: 2022
Status: In-Process


"House on Dusty Mile" is a radical redesign of an existing shack in the desert community of Landers, 130 miles east of Los Angeles. Our firm was given strict instructions to retain as much of the original building footprint and material as possible. This stipulation came not out of any love for the existing structure (it was an uninhabitable wreck), but from the owner's belief that in a region with almost no available building resources, we are ethically obligated to use every material at hand – both physical building materials and the organization of the property as it was found.






For us, these constraints initiated a game of creatively re-using the as-found stick framing to make a three-part scheme of two pavilions separated by a partially enclosed outdoor area. Inside each pavilion we tinkered with the arrangement of existing walls to make two distinct but equally sized "glyphs" that separate living space into zones with a minimum number of doors. In the pavilion to the west, an S-shaped glyph figure transitions the plan from kitchen to work area to bedroom to bathroom. At the east pavilion, a cross-shaped wall in the middle does the same work of dividing area into four parts, this time placing circulation around the perimeter.






New construction at the roof is designed for the harsh desert environment. 5-foot parapets have been added at each end of the building, with a tilted, hollow "super parapet" in the middle zone. Above the living quarters, the parapets make a kind of bathtub for a layer of crushed quartz above the roof membrane, and, below this, a plenum for batt insulation. Together with deeply recessed windows, these work as a three-fold system for mitigating solar heat gain: the quartz reflects the sun, insulation slows conduction, and the geometry of window recesses masks direct light. The titled parapet in the middle works like an oculus, shading outdoor living space for all but an hour or two in the middle of the day.






The interior of the project emphasizes continuity. The geometric moves in plan are reiterated in wall-cladding of wood, drywall, and tile so that that the figures we found and added are easy to see. At the exterior, the game of addition is nearly the opposite. Chamfers in heavily troweled stucco read like the blunt stacking of enormous blocks, one atop another, to make a kind of cairn at the outer reaches of settlement.


Project Lead: Xavier Ramirez

Project Team: Samantha Radice, Edward Wang, Aggie Fielding