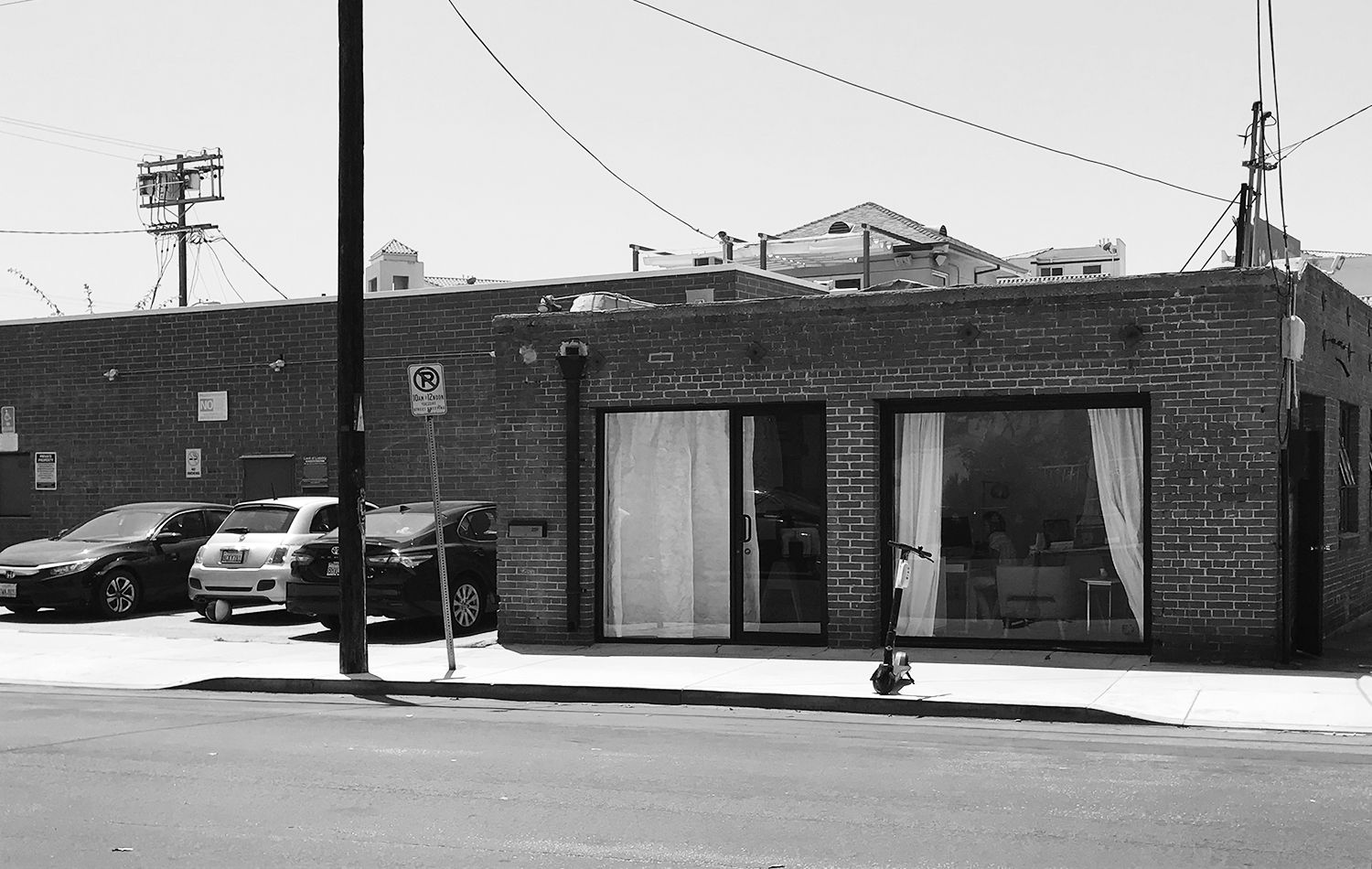 The LADG
(Los Angeles Design Group)
We are a design firm that makes
strategic models for architecture.

We create ways of working and thinking to open new possibilities, construction methods, and aesthetics in highly constrained contemporary environments. New models are produced in our Research Studio, which undertakes blue-sky enquiry in technique and form for the built environment. The Studio draws on human talent and intellectual resources from the world's foremost universities.
Most of our clients commission buildings based on existing strategic models that have already been refined over time through research in the Studio. There are currently three. "Shell and Liner Retail" is a model developed for the fast-track design, fabrication, and installation of highly customized interiors for existing white-box tenant spaces. The system allows for aesthetic refinement and customization, taking advantage of CNC fabrication technologies and horizontal integration across multiple trades in order to drive down costs, speed up construction, and produce compelling interior organizations. "Niche Houses" rework the single-family home to allow California-style living on the infill lots typical of contemporary third-wave residential development in Los Angeles. "Massed and Gathered Restaurants" is a model currently in the final stages of development. It uses tectonic assemblies of minimally-altered stock materials to create diverse micro-environments within an ordered, functional service environment.

Institutions, museums, galleries, and patrons commission ideas directly from the Research Studio. These projects allow first glimpses into future-focused thinking that will ultimately influence the production of full-fledged architectures.

What is a strategic model for architecture? Our models combine:

A typology
A market segment
A geographic region
A formal mechanism
An aesthetic sensibility
An imagination of how to live

Established in 2004, The Los Angeles Design Group (The LADG) is led by principals Claus Benjamin Freyinger and Andrew Holder, with offices in Venice, CA and Cambridge, MA. The founders see their work as contributing to a longer history of ideas, and draw on this history to craft unexpected solutions to conventional problems in architecture and design. The firm works at all scales, with completed projects in California, Colorado, Hawaii, Minnesota, New York, Oregon, and the United Kingdom. Recent work includes a free-standing indoor-outdoor restaurant in Southern California and the installation of a contemporary picturesque garden in Loeb Library at the Harvard Graduate School of design. The firm has received numerous professional honors and recognitions, including 2017 and 2018 Progressive Architecture Awards, the 2014 League Prize from the Architectural League of New York, and multiple citations from the Los Angeles Chapter of the AIA.
Claus Benjamin Freyinger is co-Principal and co-founder of The LADG. Benjamin is a Guest Lecturer at the University of California Los Angeles, Department of Architecture and Urban Design. His design interests include the repurposing of architecture of the late baroque for contemporary audiences, and building relationships between architecture and fine art practice. Prior to co-founding The LADG Benjamin held positions at Mones and Partner, Architects in Munich, Germany, and Kohn Pedersen Fox Architects and Planners in New York. He holds a BA in art history from Boston College with a minor in fine arts from the Ludwig Maximilian's University in Munich, Germany. Benjamin received his M. Arch from the University of California, Los Angeles, in 2005. Prior to working in the field of architecture he gained fine art curatorial experience working for the Peggy Guggenheim Collection in Venice, Italy.
Andrew Holder is co-Principal of the The LADG and Associate Professor at the Harvard Graduate School of Design. His research and design interests include the late baroque architecture of 18th century Germany, the English picturesque, and the construction of architecture as an inanimate subject. Andrew's recent work has been published in Young Architects 16, A plus T, Log, Pidgin, Project, and RM 1000. He is a frequent lecturer and guest critic at institutions across the United States and has held teaching appointments at the University of Michigan, the University of Queensland, the University of California, Los Angeles, Sci-Arc, and Otis College of Art and design. Andrew is a Harry S. Truman Scholar, an Oberdick Fellow at the University of Michigan, and a Robert B. Pamplin Jr. Fellow at Lewis & Clark College. He received a Master of Architecture with distinction from the University of California, Los Angeles and a Bachelor of Arts in Political Science from Lewis & Clark College.
Kenji Hattori-Forth, Ashley Hickman, Hamza Hassan, Remi McCLain, Samantha Radice, Xavier Ramirez, Jonathan Rieke, Son Vu
Jesus Aguilar, Kwesi Asamoah, Courtenay Bauer, Jacob Bruce, Lori Choi, Kevin Chong, Julian Daly, Ciro Dimson, Esra Durukan, Stella Dwifaradewi, Martin Fernandez, Jamie Goldsborough, Steven Guban, Taylor Halamka, David Harrop, Michael Hayes, Troy Hillman, Hiroshi Holloway, Erin Horaham, Molly Hunker, Andrew Jennings, Yilip Kang, Andrew Kim, Jonathan Lain, Michael Loverich, Lauren Lynn, Brandon Maike, Dan Marty, Amanda McGough, Spencer McNeil, Jena Meeks, Matthew Moffit, Evan Orf, Stefano Passeri, Thomas Pompeani, Alexander Porter, See Hong Quek, Noah Rubin, Nick Safely, Jacob Sertich, Tyler Smith, Morgan Starkey, Antonio Torres, Darryl Weimer, Ryan Wilson, Siyuan Xi, Trenman Yau, Homayoun Zayouni, Snoweria Zhang